description
reviews
features
faqs
shipping
care
Easter Stampies - The Super Egg-citing Silicone Cookie Stamps
Love Easter even more than your tiny human? And you spend weeks planning crafty activities with your munchkin at this fun time of year?

Then we have a feeling some 'bunny' is ready for our special edition silicone cookie stamp set, The Easter Stampies.

Make edible memories with your tiny human in the kitchen and DIY this year's Easter goodies for the many little daycare friends just as excited as your munchkin. These Easter Stampies guarantee super-cute cookies, creatively crafted gems and delicious bring-alongs straight from the heart.

Every Easter Stampies set includes a stainless steel cookie cutter, 1 wooden stamper and 6 conveniently interchangeable, food-grade silicone Easter motive stamps.

Now the question is… which one to pick first? You love the Easter egg, munchkin insists on the Easter bunny, and grandma only has eyes for the hatching chick.

Don't worry, be 'hoppy'! Whichever one you pick, get making, get creating and let your imagination run wild.

And once you're done baking, creating and crafting, simply add the silicone Easter characters to your dishwasher so you can be eggs-cused. And who doesn't love more time to chase the Easter bunny?

Now let's 'chick' out all the other reasons why these silicone Easter cookie stamps are your perfect kitchen and craft companion at this time of year.
Customer Reviews
Write a Review
Ask a Question
Filter Reviews:
stampies
cookies
kids
play dough
quality
biscuits
daughter
purchase
animals
dishwasher
16/11/2023
Barb B.

Australia
Stampies
Really happy woth the animal stampies!! Easy to use & the image is beautifully clear. Can't wait to make more biscuits for my grandson
20/11/2023
We Might Be Tiny
Awesome, thank you so much Barb. One of our bestsellers for a reason.
09/09/2023
Nanny M.

Australia
09/09/2023
Nanny M.

Australia
Great to see such a broad range of Aussie animals - the Tassie Devil will be much appreciated by my Apple Isle friends!
Premium quality stampers. Very easy to change & attach a different stamper. Such gorgeous illustrations of many of our native species.
25/09/2023
We Might Be Tiny
Looking great, Nanny! Thank you for sharing this with us.
02/08/2023
Katharine A.

Australia
Love these stampies
Love the stampies, such cute prints. Using them made me look like I actually knew what I was doing when it comes to Baking!
18/08/2023
We Might Be Tiny
One of our best sellers for a reason, Katharine! Thank you so much.
02/08/2023
Anne D.

Australia
Great product
I recently bought the Australian Stampies for my Grand Daughter and she was over the moon to think that she can use them in her homemade play dough as well real cookies… the product is fabulous and the service is excellent
18/08/2023
We Might Be Tiny
You're a grandma of the year, Anne! Thank you so much for your support.
31/07/2023
Gillian L.

Australia
Tiny by Name Only!
Purchased as a gift for my great nieces, aged four, and they have been having a wonderful time with their mum, helping to stamp cookies. And great fun with play dough, too. Huge success. Thanks.
18/08/2023
We Might Be Tiny
We're so happy to hear this, Gillian. Thanks for sharing.
06/07/2023
Rose D.

Australia
Tiny beauties!
I have bought two packs of these wondrous Australian animals and am giving them to one of my sisters this week who is visiting from New York - for her to use them with her granddaughter. The other pack is for my use with my grandchildren. We are going to use them concurrently with our US family!
14/07/2023
We Might Be Tiny
Such love! Thank you so much Rose.
15/06/2023
Jen

Australia
23/05/2023
Christine J.

Australia
Stampers
Excellent product and service
25/05/2023
We Might Be Tiny
Thanks for dropping us 5 stars, Christine.
24/04/2023
Roslyn S.

Australia
Easter Stampies
Fantastic product, so easy for my 3 and 4.5yos to use. We ordered a second stamper so they didn't have to share. We used the cookie recipe from the website to make cookies and we've also used them for playdough and the kids found it super easy to switch out the stamps as they went. 10/10 I've also ordered the animal stampies
28/04/2023
We Might Be Tiny
Awesome, Roslyn. Thank you so much for sharing your feedback with us. Love how the kids are having fun with it. Enjoy!
09/04/2023
Rebecca O.

Australia
The Best Stamps
My kids absolutely love these stamps! We bought this set to add on with our Christmas Stamps. They are so versatile and can be used with so many mediums! We have used them to make cookies, stamp with playdough, paint, and use with kinetic sand. They are of such great quality and super easy to clean, we have shared them with my kids day care these past two weeks which they have loved! Will be looking to purchase the Aussie Stamps to build on our collection when they are back in stock :)
13/04/2023
We Might Be Tiny
Don't forget to sign-up for a "back in stock" notification on our website (on the product page), Rebecca.
08/04/2023
Holly D.

Australia
Super Cute Stampies
I made the easy shortbread biscuits with the cute stamped yesterday and they were so easy to use and look so sweet! Looking forward to using both the recipe and stampies throughout the year not just Easter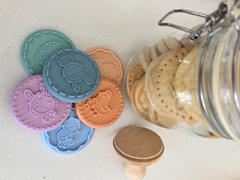 13/04/2023
We Might Be Tiny
Perfect for any occasion, Holly. Grab our Stampie Recipe Booklet too. You may also check out our blog recipes on site.
06/04/2023
Kim N.

Australia
05/04/2023
Chloe W.

New Zealand
The best Easter product I've bought!
Super fast shipping, epic customer service and the most important thing: beautiful product!!
13/04/2023
We Might Be Tiny
Glad to hear you had an awesome buying experience with us, Chloe. Thank you so much.
04/04/2023
Fiona H.

Australia
so cute!
my kids love them so much we use it for playdough and cookie making
13/04/2023
We Might Be Tiny
Awesome, Fiona. Thank you so much.
Easter Stampies
My goodness do we love these! My little girl, and let's be honest, me too, love playing with these! Bikkies, play-doh, paint, we've stamped it! There's just something so therapeutic about them. Need more to add to our collection!
13/04/2023
We Might Be Tiny
Yay! We're so thrilled to hear this, Meghan. Thank you for the continued support.
Customer Favourites
We love the range of cookie stamps available and they are a favourite of our customers
13/04/2023
We Might Be Tiny
We love this! Thank you so much for sharing, Michelle.
31/03/2023
Katherine S.

Australia
Kids love them
Easy to use with my three year old. We made cookies for Easter and she loved it. Look forward to using with play dough next
WMBT AWSOME
You guy's were very prompt and your product is wonderful, I would love to see more stampies such as Christmas and birthday and maybe more animals and nature leafs trees flowers star moon sun
29/03/2023
We Might Be Tiny
We appreciate your recommendation, Bronwyn. We will take this into consideration. More stock coming in a few months along with new colours and range. Stay tuned.
The Easter Cookie Stamps are:
Dishwasher-safe

Microwave, oven and freezer safe (-40°C to 230°C)

Flexible and durable

Non-stick and non-slip

Non-toxic, food-grade silicone independently certified to the highest European standards

(FDA and LFGB approved)

BPA free

Proudly designed in Australia
Specifications
The cookie cutter is made of stainless steel.
Dimensions: 6.5cm diameter x 1.1cm high.

The stamper is made of rubber wood.

And these are the 6 familiar Easter staples you can expect in every Easter Stampies set: ​Easter egg, hatching chick, hen & chick, easter boy, easter girl, easter bunny.
Australia
Current processing time is 2-3 business days to dispatch. 
We use a combination of Couriers Please, Australia Post/StarTrack, Aramex and Border Express – with prices starting from $6.50 (orders under 0.5kgs). Express shipping options also available.
Carrier is automatically selected by us, based on your location and weight of the parcel.
Please note: signature on delivery is required. If you enter Authority to Leave in the notes during checkout, we will not take responsibility for lost or stolen parcels should the shipping company follow those instructions (and we cannot guarantee those instructions will be followed). 
Standard domestic shipping rates
| | |
| --- | --- |
| 0-0.5 kgs (replacement parts) | $6.50 |
| 0.5-3 kgs | $10 |
| 3-4 kgs | $15 |
| 4-5 kgs | $20 |
| 5-10 kgs | $35 |
| 10-15 kgs | $45 |
| 15-20 kgs | $60 |
| 20-25 kgs | $70 |
| 25-30 kgs | $80  |
| 30-35 kgs | $100 |
| 35-40 kgs | $120 |
International
International parcels are shipped either Couriers Please or Australia Post / Startrack. 
Any international taxes or import duties are the recipient's responsibility. Please familiarise yourself your country's import regulations before placing an order.
| | |
| --- | --- |
| New Zealand | starts from AUD$12 |
| UK | starts from AUD$25 |
| Pacific Islands | starts from AUD$35 |
| China | starts from AUD$30 |
| Asia | starts from AUD$32 |
| Europe | starts from AUD$32 |
| North America | starts from AUD$25 |
| Rest of the world | starts from AUD$40 |
Why Silicone?
Silicone is the miracle component that makes We Might Be Tiny products the versatile and durable wonders they are.
No other material is food-safe and BPA-free while feeling at home in freezing temperatures and soaring heat.
And the best part is that you are directly contributing to saving the planet by using products made from natural materials while reducing waste.
Three cheers to you!
Find out how to recycle and earn through The Mighty Silicone Salvage.
We purposefully design our products to stand up to the wear and tear of everyday life and beyond, so you don't have to worry about them falling apart after a few uses! And the best part? They can be passed down between children and generations – even with the roughest of toddlers (and we know how wild they can be 😜). 
However, even the toughest cookies need a little TLC sometimes. That's why we recommend following our care instructions below.
Cleaning
Before first use, wash the product in warm soapy water and rinse thoroughly.
After each use, wash the product in warm soapy water and rinse thoroughly to remove any soap residue.
Use a mild detergent, avoiding anything overly fragrant. 
Avoid using abrasive sponges or harsh cleaning agents, as they can damage the product.
Avoid contact with sharp knives or objects.
Certain foods and liquids can stain silicone products, such as tomato-based sauces or brightly coloured juices. To prevent staining, we recommend cleaning promptly after use.
To remove any stains or discolouration, mix a small amount of baking soda with warm water to create a paste, apply it to the stained area, and let it sit for a few hours before rinsing it off. Direct sunlight can also help lift any discolouration from silicone. 
Heating
Our 100% silicone products are microwave, oven and airfryer safe in temperatures up to 230ºC. 
Do not put stainless steel components in the microwave, oven or airfryer.
Do not put reusable plastic icy pole sticks in the microwave, oven or airfryer.
Freezing
Our silicone products are freezer-safe to -40ºC, but it's important to ensure that the product is completely dry before placing it in the freezer.
Avoid sudden temperature changes by allowing the product to cool down before placing it in the freezer.
To prevent freezer burn, we recommend transferring frozen food or liquid to an air-tight container or freezer bag. 
When transferring the food or liquid, be sure to label the container or bag with the date of freezing, so you can keep track of how long it has been stored. We recommend using the frozen food or liquid within 3 months to ensure the best quality.
Storing
Store your We Might Be Tiny product in a cool, dry place. Do not store it in direct sunlight or near a heat source, as this can damage the product.
Avoid storing silicone products with plastic to avoid any absorption of smells. Silicone is a non-porous material that does not absorb smells, but plastic products can absorb smells from other foods and liquids stored in them. Storing silicone products alongside plastic products can result in the silicone product taking on an unpleasant odour.
Safety warnings
Always use products with adult supervision.
Avoid sharp knives with silicone products.
Before each use, inspect the product. Throw away at the first sign of damage or weakness.
Always check food temperature before feeding. Hot food may cause burns. Heating in a microwave may produce localised high temperatures. Always stir heated food to ensure even heat distribution and test the temperature before serving.
Keep all components not in use out of reach of children.